Wonderland

Full-Lengths

By: C. Edward Wheaton
Cast: 6 M, 7 F, 24 flexible, opt. extras (Flexible cast. Doubling Possible)
Performance Time: Approximately 75-90 minutes, 76 pgs.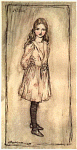 FARCE/SATIRE. This adaptation incorporates not only Lewis Carroll's two classic novels, Alice in Wonderland and Through the Looking-Glass, but some of Carroll's poems and even his essay "The Two Clocks" to create a fresh show that will entertain audiences of all ages. Alice ventures down the rabbit hole into Wonderland, where she meets a host of ridiculous characters who at times appear even more lost than Alice. Carroll's gift for satire, parody, and word play is preserved in this smart, witty adaptation.

Freeviews: To read play excerpts click here.

About the Story: To read more about the story click here.
Please remember it is necessary to purchase one script for each cast member and one royalty for each performance.

Scripts: $8.95 each
Royalty: $75.00/performance
Prompt Book: $16.00
Poster Package: $50.00 (50/pkg)
Distribution Rights: $75.00
Artwork Rights: $50.00
Play Pack: $479.00 (40 scripts for cast crew, 1 royalty, 50 posters, 1 prompt book)


C. Edward Wheaton (1950-2019) studied drama at Stanislaus State College and had an extensive background in 19th-century and early 20th-century American drama and literature. He was from Stevinson, CA.