Male Bonding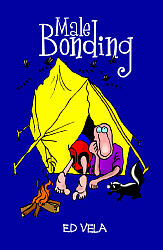 Collections

By: Ed Vela
Cast: 5 M (2 M with doubling)
Performance Time: Approximately 30 minutes, 25 pgs.


COLLECTION. Manhood. The great outdoors. Sounds like an idyllic opportunity for male bonding, but in this collection of wilderness adventures, the men find their manhood easily squashed by the forces of Mother Nature. In "Male Bonding," a mother—afraid her teenage son is in danger of becoming an interior decorator—sends her husband and son out into the wilds of Texas to do some male bonding. But after being sprayed by a skunk, suffering a bout of diarrhea, running out of toilet paper, getting eaten alive by mosquitoes, contracting poison ivy, and then being trapped in a tent in a rainstorm after eating too many baked beans, the two find a trip to the mall and some pizza preferable to enduring the horrors and hardships of nature. In "Loathe Letters," Mel, an Italian deli owner, sends his son, Kip, to summer camp to toughen him up. Stir-crazy, stressed-out, damp, and suffering, Kip begins sending desperate letters to his dad begging to come home, but Mel, glad to have his son gone for the summer, is determined to keep Mel at camp. And in "Lying to Mom as an Art Form," a father recounts his first camping trip as a boy and vows never to inflict the same torture on his sons.

Freeviews: To read play excerpts click here.
Please remember it is necessary to purchase one script for each cast member and one royalty for each performance.

Scripts: $6.95 each
Royalty: $60.00/performance
Prompt Book: $13.00
Poster Package: $50.00 (50/pkg)
Distribution Rights: $60.00
Artwork Rights: $50.00
Play Pack: $159.00 (8 scripts for cast/crew, 1 royalty, 50 posters, 1 prompt book)


Ed Vela is a national award-winning playwright whose plays have been produced throughout the U.S. Mr. Vela is also an accomplished actor who has more than 30 years of experience on the stage. He resides in southern California.