Step Away, A

Holiday Plays

By: Ed Vela
Cast: 7 M, 4 F, 5 flexible (With doubling: 5 M, 4 F)
Performance Time: Approximately 90 minutes, 74 pgs.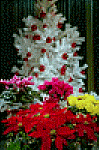 CHRISTMAS COMEDY. Art, a divorced father of three, and Rhonda, a widow with two sons, have eloped, purchased a new house, and are looking forward to moving in together and living like one big happy family. The only problem is that Art's kids don't know about Rhonda's kids, and Rhonda's kids don't know about Art's kids. Rhonda and Art manage to keep the secret until moving day when their kids finally meet each other and find out—to their horror—that they'll be living together in a cramped 3-bedroom, 1.5-bath home. Things go downhill quickly as family members are forced to cope with endless annoyances including putrid foot odor, excessive back slapping, belching on command, and using the living room as a closet. And amongst all these "heartwarming" family moments there remains important family decisions to be made like whether or not to buy whole milk or 2-percent milk or to have a real or artificial Christmas tree. But in the end, though the Christmas tree may be artificial, there's a chance that this family may become a real family after all!

Freeviews: To read play excerpts click here.
Please remember it is necessary to purchase one script for each cast member and one royalty for each performance.

Scripts: $8.95 each
Royalty: $75.00/performance
Prompt Book: $16.00
Poster Package: $50.00 (50/pkg)
Distribution Rights: $75.00
Artwork Rights: $50.00
Play Pack: $291.00 (19 scripts for cast/crew, 1 royalty, 50 posters, 1 prompt book)


Ed Vela is a national award-winning playwright whose plays have been produced throughout the U.S. Mr. Vela is also an accomplished actor who has more than 30 years of experience on the stage. He resides in southern California.