Night Before, The

Holiday Plays

By: Mark Dietrich Wyss
Cast: 2 M, 1 F
Performance Time: Approximately 20 minutes, 18 pgs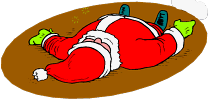 HOLIDAY FARCE. It's the night before Christmas and all through the house, there's a creature stirring, but it isn't a mouse! Sound asleep, Remy and Vida awaken when they hear a loud crash. As Remy searches the house in the dark, he encounters Santa Claus, mistakes him for a burglar, and accidentally shoots him. When Remy calls the police to report that Santa has been shot, the police just think he's had a few too many Christmas cocktails. Not knowing what to do, Vida suggests hiding Santa's body in the freezer or living as fugitives in Paraguay. But with a little bit of blackmail, a smidgeon of vengeance, a recumbent bicycle, and a 50-inch high-definition TV, Remy celebrates his best Christmas ever! This short holiday play is easy to stage and will spread holiday laughter—guaranteed!

Freeviews: To read play excerpts click here.
Please remember it is necessary to purchase one script for each cast member and one royalty for each performance.

Scripts: $6.95 each
Royalty: $60.00/performance
Prompt Book: $13.00
Poster Package: $50.00 (50/pkg)
Distribution Rights: $60.00
Artwork Rights: $50.00
Play Pack: $145.00 (6 scripts for cast/crew, 1 royalty, 50 posters, 1 prompt book)

Mark Dietrich Wyss is a director and author of several short plays. His plays have won awards at play festivals and have been produced at theatres in the US. Mr. Wyss resides in Milwaukee, WI.