New Socks for the Barefoot Family

Holiday Plays

By: Linda Kelly and Darby Wills Chism
Cast: 1 M, 3 F, 15 flexible
Performance Time: Approximately 30 minutes, 29 pgs.


CHILDREN'S HOLIDAY. Based on a true story, this heart-warming play brings forth the true meaning of the holiday season. It's a new school year at Monkey Shines Elementary School, and Mrs. Kelly's students are working hard to raise enough money before their holiday break to buy the Barefoot family socks to keep their feet warm. When Christmas Eve arrives, the Barefoot family rejoices when they open their new socks, and Mrs. Kelly's students receive the best gift of all—the gift of giving. This play is perfect for elementary school performers.

Freeviews: To read play excerpts click here.
Please remember it is necessary to purchase one script for each cast member and one royalty for each performance.

Scripts: $6.95 each
Royalty: $60.00/performance
Prompt Book: $13.00
Poster Package: $50.00 (50/pkg)
Distribution Rights: $60.00
Artwork Rights: $50.00
Play Pack: $256.00 (22 scripts for cast/crew, 1 royalty, 50 posters, 1 prompt book)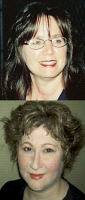 Linda Kelly is a preschool teacher, an art teacher, and a professional photographer. Ms. Kelly lives in Kennesaw, GA, with her husband Kraig, two children, and three grandchildren.
Darby Wills Chism teaches art and drama classes at the Kennesaw Community Center and has worked as a preschool teacher, an art-enrichment instructor, and an art specialist for Cobb County's Cultural Affairs Department. Ms. Chism lives in her hometown of Marietta, Georgia, with her husband, David, and their children, Rebecca and Wyatt.