Burgie Belter Breakdown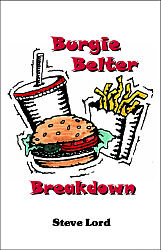 One-Acts 20

By: Steve Lord
Cast: 4 M, 3 F (With doubling: 3 M, 3 F)
Performance Time: Approximately 30-40 minutes, 40 pgs.



COMEDY. Everything is going well at The Burgie Belter, a local fast-food restaurant, until Josh arrives for work and notifies his boss, Herb, that he will be quitting his job as a fry cook and moving to Chicago to take a job as a sportswriter. Upon hearing the news, Herb suffers a major midlife crisis and suddenly wants to leave his wife, children, and job as manager of The Burgie Belter to start a new life in Chicago as Josh's "Uncle Herb." But when Josh refuses to take Herb to Chicago, Herb retreats to his office where he strips off his fast-food uniform and is discovered moping about wearing only his T-shirt and boxer shorts. Worried that Herb has suffered a complete Burgie Belter breakdown, Josh decides to call upon the only person who can bring Herb back from the brink of madness―Herb's no-nonsense wife. Audiences will adore the quirky characters in this hilarious "romantic" comedy!

Freeviews: To read play excerpts click here.
Please remember it is necessary to purchase one script for each cast member and one royalty for each performance.

Scripts: $6.95 each
Royalty: $60.00/performance
Prompt Book: $13.00
Poster Package: $50.00 (50/pkg)
Distribution Rights: $60.00
Artwork Rights: $50.00
Play Pack: $172.00 (10 scripts for cast/crew, 1 royalty, 50 posters, 1 prompt book)

Steve Lord is an award-winning journalist and has spent more than 16 years as a member of the Gag Reflex Comedy Theater, a suburban Chicago-based comedy group, and is affiliated with the Geneva Underground Playhouse in Geneva, Ill. Mr. Lord lives in Geneva with his wife, Pat, and has three children, Julie, Bobby and Steve.