Suddenly, a Shot Rang Out…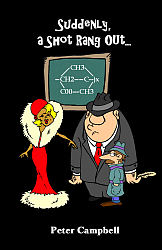 One-Acts 20

By: Peter Campbell
Cast: 2 M, 2 F, 1 flexible
Performance Time: Approximately 30 minutes, 28 pgs.


SPOOF. Audiences will love this hilarious film noir spoof. Lola Dusseldorf, a mysterious femme fatale, arrives in Chinatown at the office of Jack Fargo, a bumbling private investigator on the verge of bankruptcy. Lola has invented a plastics formula that will revolutionize the patio furniture industry and is on the run from the evil Colonel Wilberton, a spy dispatched by the Pan-Eurasian Petrochemicals Company to steal the formula. Colonel Wilberton is prepared to do anything…even employ one of the most hideous forms of torture known to man involving castor oil and a feather to obtain the formula. But before Lola and Jack can even leave the office, Colonel Wilberton arrives with his hulking bodyguard, a feather, and a bottle of castor oil. It doesn't take long before Jack and Lola put two and two together and realize they are in a real slippery situation!

Freeviews: To read play excerpts click here.
Please remember it is necessary to purchase one script for each cast member and one royalty for each performance.

Scripts: $6.95 each
Royalty: $60.00/performance
Prompt Book: $13.00
Poster Package: $50.00 (50/pkg)
Distribution Rights: $60.00
Artwork Rights: $50.00
Play Pack: $159.00 (8 scripts for cast/crew, 1 royalty, 50 posters, 1 prompt book)

Peter Campbell has written several plays, some of which have been performed in professional theatres. Mr. Campbell attended Pennsylvania State University and Syracuse University and has worked as a newspaper reporter, magazine editor, and speechwriter. He is a member of the Dramatists Guild of America.