Healin' Home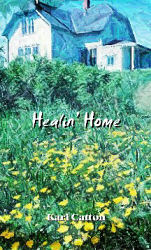 Full-Lengths

By: Kari Catton
Cast: 4 M, 5 F
Performance Time: Approximately 90 minutes, 89 pgs


DRAMA. This heartwarming sequel to The Track Home tells the story of three runaway orphans, Andalusia, Casey, and Bit, as they struggle to uphold their dying mother's wish…to stay together as a family. Not wanting to be separated, the siblings have escaped from the Orphan Train, which transports orphans from New York City to be adopted by families in the West. Headed for New Orleans, the children get caught in a thunderstorm and arrive drenched and hungry on the doorstep of Sue and Jason Coley. Afraid they will be sent back to the Orphan Train, the children tell the Coleys that they live in a neighboring county and are on their way to town to sell some family possessions. The kindhearted Coleys, who are still grieving the death of their daughter, feed the children soup and bread, give them dry clothing, and allow them to stay the night. To help fund their travels, Casey steals a silver picture frame, which contains the only picture of the Coley's dead daughter. The next day as the children are getting ready to leave, their plans begin to unravel when the sheriff and an agent for the Children's Aid Society arrive.

Freeviews: To read play excerpts click here.
Please remember it is necessary to purchase one script for each cast member and one royalty for each performance.

Scripts: $8.95 each
Royalty: $75.00/performance
Prompt Book: $16.00
Poster Package: $50.00 (50/pkg)
Distribution Rights: $75.00
Artwork Rights: $50.00
Play Pack: $228.00 (12 scripts for cast/crew, 1 royalty, 50 posters, 1 prompt book)

An award-winning playwright, Kari Catton, serves as the Executive Director for Theatre in the Park at Lincoln's New Salem State Historic Site, Petersburg, IL. Ms. Catton graduated from Illinois State University with a degree in Theatre. She resides in Springfield, IL, and has two daughters, Jenny and Amy.