Search for Mother Goose, The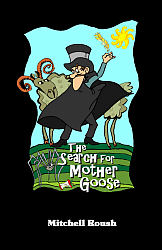 Plays for Young Audiences

By: Mitchell Roush
Cast: 2 M, 3 F, 10 flexible, opt. extras
Performance Time: Approximately 60 minutes, 56 pgs.


INTERACTIVE COMEDY. Mother Goose's son, Gary, embarks on a journey through Nursery Rhyme Land to save his mother from the clutches of Sly McSneakerson, who wants to steal all of Mother Goose's nursery rhymes. On his quest to find the villain's hideout, Gary seeks the help of Little Bo-Peep, Humpty Dumpty, Little Miss Muffet, and the Three Blind Mice, and he quickly discovers that these characters have big problems of their own! Can Humpty Dumpty put himself back together with the help of only one King's man due to royal cutbacks? Will Little Bo-Peep always be known as the world's worst shepherd? Will Little Miss Muffet ever be cured of arachnophobia? And will the Three Blind Mice realize that they are actually blind? Humor and hijinks abound in this entertaining play for young audiences.

Freeviews: To read play excerpts click here.

About the Story: To read more about the story click here.
Please remember it is necessary to purchase one script for each cast member and one royalty for each performance.

Scripts: $7.95 each
Royalty: $60.00/performance
Prompt Book: $16.00
Poster Package: $50.00 (50/pkg)
Distribution Rights: $60.00
Artwork Rights: $50.00
Play Pack: $249.00 (18 scripts for cast/crew, 1 royalty, 50 posters, 1 prompt book)

A graduate of York College, playwright Mitchell Roush has been a guest keynote speaker and a teacher and performer at numerous events and universities. Mr. Roush works as a campus team developer for the Let's Start Talking Ministry. He lives with his wife, Marissa, and two dogs in Fort Worth, TX.