Taming of Sue, The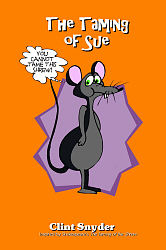 One-Acts 20

By: Clint Snyder
Cast: 2 M, 7 F, extras
Performance Time: Approximately 30 minutes, 28 pgs.


SPOOF/FARCE. Inspired by Shakespeare's The Taming of the Shrew. When her favorite TV show is canceled, a spoiled, rich girl tries to direct a play within a play but faces numerous obstacles including a live studio audience, a love triangle, and a "regular" guy who likes to dress up like a shrew (the rodent type). Then there's a crazy person who thinks she's a princess, a guy who doesn't want to help care for an egg named Herbert, and a girl who likes to eat breakfast burritos. The zaniness never ends in this crazy, madcap play!

Freeviews: To read play excerpts click here.

About the Story: To read more about the story click here.
Please remember it is necessary to purchase one script for each cast member and one royalty for each performance.

Scripts: $6.95 each
Royalty: $60.00/performance
Prompt Book: $13.00
Poster Package: $50.00 (50/pkg)
Distribution Rights: $60.00
Artwork Rights: $50.00
Play Pack: $186.00 (12 scripts for cast/crew, 1 royalty, 50 posters, 1 prompt book)


Clint Snyder has worked as a playwright, actor, director, and clown on and off the stage. He is a graduate with high honors from the University of Maine with degrees in Mass Communication and Theatre. A Chicago native, Mr. Snyder lives in Maine.