Queen Zixi of Ix

Full-Lengths

By: John I. Baker III
Cast: 8 M, 21 F, 39 flexible, extras (With doubling: 6 M, 17 F, 25 flexible. Tripling possible.)
Performance Time: Approximately 100-120 mins, 88 pgs.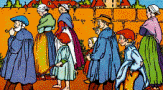 CLASSIC. Adapted from the novel by L. Frank Baum. This fantastical adventure will charm your audiences with its wit and whimsy. When the Queen of the fairies grows tired of merrymaking, she has her fairies weave a magic cloak that grants its wearer one wish. The Queen orders one of her fairies to give the cloak to the first unhappy person she meets, who happens to be a poor orphan girl, Margaret. Margaret becomes a princess and her brother Bud is declared the new king of Noland. Meanwhile, the rascally, rotund Roly-Rogues have conquered the kingdom of Noland and forced its citizens to tend to their every need. The citizens have to constantly feed the ravenous Roly-Rogues large pots of soup and scratch their big bellies. With the help of Queen Zixi of Ix, King Bud and Princess Margaret must find the magic cloak so they can rid themselves of the maddening Roly-Rogues once and for all.

Freeviews: To read play excerpts click here.

About the Story: To read more about the story click here.
Please remember it is necessary to purchase one script for each cast member and one royalty for each performance.

Scripts: $8.95 each
Royalty: $75.00/performance
Prompt Book: $16.00
Poster Package: $50.00 (50/pkg)
Distribution Rights: $75.00
Artwork Rights: $50.00
Play Pack: $577.00 (51 scripts w/doubling for cast/crew, 1 royalty, 50 posters, 1 prompt book)

John I. Baker III founded the York College Traveling Children's Theatre in 1998 and the Yorkshire Playhouse Children's Theatre in 2000. He has directed youth and adults in children's theatre productions for more than 20 years. Mr. Baker is an Associate Professor of Theatre and Communications at York College in York, NE.