Willow Parks: The Final Episode

Full-Lengths

By: Steven Stack
Cast: 4 M, 8 F
Performance Time: Approximately 75-90 mins, 76 pgs.


SPOOF/FARCE. It's the final episode of "Willow Parks," the longest-running primetime soap opera in the history of TV, and they're airing the show live for the first time. All goes smoothly until the show's matriarch falls asleep and the cast has to drag her body off the set. Having played a doctor on TV for 15 years, Mira discovers that she's not a real doctor and that her medical instruments are actually props. Midway through the show, an actor quits and the other cast members have to play the scene as if the character is there even though she isn't. Then when an actor is murdered, the security guard agrees to fill in but only if he can play the part with Shakespearean flair. The laughs are nonstop in this wildly funny soap opera spoof!

Freeviews: To read play excerpts click here.
Please remember it is necessary to purchase one script for each cast member and one royalty for each performance.

Scripts: $8.95 each
Royalty: $75.00/performance
Prompt Book: $16.00
Poster Package: $50.00 (50/pkg)
Distribution Rights: $75.00
Artwork Rights: $50.00
Play Pack: $255.00 (15 scripts for cast/crew, 1 royalty, 50 posters, 1 prompt book)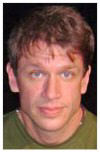 Steven Stack has been involved with theatre for more than 20 years as a writer, actor, and instructor. Mr. Stack has written and directed several full-length plays, one-acts, and scenes for several theaters, performing arts schools, and professional organizations and is currently the lead playwright for Jigsaw Entertainment. He resides in Mount Horeb, WI.