Zombie Tango, The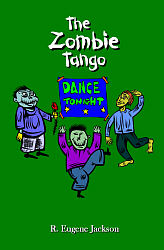 Full-Lengths

By: R. Eugene Jackson
Cast: 9 M, 15 F, 1 flexible
Performance Time: Approximately 75 mins, 56 pgs.



FARCE. Everyone at the school dance takes notice when a strange group crashes their party. The newcomers stink, grunt, have no sense of fashion, and look like they took mud baths. Well, it turns out they're zombies. The only student who fits in with the group is Bob, and that's because Bob took a shortcut through the cemetery, fell into an open grave, and turned into a zombie. When Ms. Miller tries to kick one of the zombies out, she accidentally pulls off one of his ears. And as if this dance wasn't bad enough, the deejay brought only one song, which he plays over and over. Luckily, the zombies brought their own music, but the humans make it difficult for the zombies to dance as they try to scare them away with a broom, water hose, rake, shovel, vacuum cleaner, leaf blower, and even cupcakes. Audiences will love these zany zombies!

Freeviews: To read play excerpts click here.
Please remember it is necessary to purchase one script for each cast member and one royalty for each performance.

Scripts: $8.95 each
Royalty: $75.00/performance
Prompt Book: $16.00
Poster Package: $50.00 (50/pkg)
Distribution Rights: $75.00
Artwork Rights: $50.00
Play Pack: $372.00 (28 scripts for cast/crew, 1 royalty, 50 posters, 1 prompt book)


During his career of teaching drama on the university level, R. Eugene Jackson has written more than 100 plays and musicals (books and lyrics), and has close to 80 publications. Jackson lives and writes in Mobile, AL, and spends part of his time in New Orleans.