Legitimate Hooey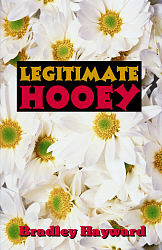 One-Acts 20

By: Bradley Hayward
Cast: 1 M, 1 F
Performance Time: Approximately 35 minutes, 39 pgs.


COMEDY. When Todd and Jenny manage to escape their annoying roommate and get their own apartment, the couple is overjoyed. But they soon find their bliss is short-lived. This hilarious play examines the age-old questions couples must face every day: Is it better to tell love stories to each other, or just watch TV? Should men be forced to go to the mall? Should the fan be on even though it makes an annoying sound? Is love just a bunch of hooey?

Freeviews: To read play excerpts click here.
Please remember it is necessary to purchase one script for each cast member and one royalty for each performance.

Scripts: $6.95 each
Royalty: $60.00/performance
Prompt Book: $13.00
Poster Package: $50.00 (50/pkg)
Distribution Rights: $60.00
Artwork Rights: $50.00
Play Pack: $138.00 (5 scripts for cast/crew, 1 royalty, 50 posters, 1 prompt book)

A native of Oxbow, Saskatchewan, Bradley Hayward has written more than 30 plays, some of which have been produced in more than 20 countries. Two of his short plays have been produced off Broadway, and several one-acts have been presented at thespian festivals across the United States and Canada. As a director of several high school productions, Mr. Hayward has worked with students on acting, playwriting and stagecraft. He lives in Los Angeles.