These Actors of Mine

Full-Lengths

By: Greg Elsasser and Jacquie Emerson
Cast: 6 M, 6 F
Performance Time: Approximately 120 minutes, 83 pgs.


COMEDY. In this hysterically zany play within a play, a cast of community theatre actors rehearse and perform a "unique" version of "Romeo and Juliet"—one that resembles a soap opera more than a Shakespeare classic. In this version, Juliet winds up in Hamlet's arms after she discovers Romeo has gotten her mother pregnant. But that's nothing compared to the drama backstage. When actor Buck Powers has a nervous breakdown and winds up in a mental hospital after performing "Hamlet," the director, Jacquie, must find another actor to play Tybalt. Jacquie calls upon Fred, a theatre janitor and professional actor to fill in since he played a one-legged male prostitute in a TV drama. Good luck continues for the cast when they discover they can save money by wearing old costumes salvaged from a theatre fire. And with the directorial "help" of Jacquie's know-it-all daughter who just graduated with a MA in theatre, the cast is optimistic they can keep the audience in their seats for 30 minutes—just long enough so the theatre doesn't have to grant refunds. There's a scene stealer for every cast member in this side-splitting comedy!

Freeviews: To read play excerpts click here.
Please remember it is necessary to purchase one script for each cast member and one royalty for each performance.

Scripts: $8.95 each
Royalty: $75.00/performance
Prompt Book: $16.00
Poster Package: $50.00 (50/pkg)
Distribution Rights: $75.00
Artwork Rights: $50.00
Play Pack: $255.00 (15 scripts for cast/crew, 1 royalty, 50 posters, 1 prompt book)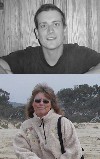 Greg Elsasser was written several plays, many of which have been produced in community theatres, colleges, and high schools throughout the country. Mr. Elsasser teaches English and drama at Warren High School and resides in Downey, CA with his wife, Kristie, and two sons.
Jacquie Emerson taught drama for 33 years and is now happily retired traveling the country in an RV with her husband, 3 dogs, and 2 cats.