Leilani

Childrens Plays

By: Linda Aronoff and Darby Wills Chism
Cast: 6 M, 11 F, 8 flexible, opt. extras (Doubling possible)
Performance Time: Approximately 30 minutes, 27 pgs.



CHILDREN'S COMEDY. The King and Queen of Hawaii are anxious for their son, Prince Manu, to marry a smart girl and settle down. But Manu would rather spend his days hanging out with his friends swimming and surfing. To find a suitable bride, the royal family decides to visit all of the Hawaiian islands, where they hope Prince Manu will meet the girl of his dreams. On the smallest island lives a poor orphan girl, Leilani, who lives with her selfish and lazy cousins, Flora and Fauna, and her greedy Aunt Moola. Leilani has no gifts with which to honor the royal family at the upcoming luau, so with the help of the forest fairies, Leilani gathers flowers and makes beautiful flowered necklaces, which the fairies call "leis." Leilani welcomes the royal family by adorning them with her beautiful leis, and the leis become a symbol of acceptance and welcome. Flabbergasted that Leilani's leis are such a hit with the royal family, Aunt Moola tries to upstage Leilani by dancing her infamous "Moola Hula." Audiences will love this hilarious Hawaiian version of "Cinderella."

Freeviews: To read play excerpts click here.
Please remember it is necessary to purchase one script for each cast member and one royalty for each performance.

Scripts: $6.95 each
Royalty: $60.00/performance
Prompt Book: $13.00
Poster Package: $50.00 (50/pkg)
Distribution Rights: $60.00
Artwork Rights: $50.00
Play Pack: $298.00 (28 scripts for cast/crew, 1 royalty, 50 posters, 1 prompt book)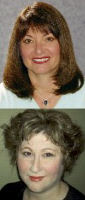 Linda Aronoff is a theater producer and director. She coaches acting students in the classroom and on an individual basis. Ms. Aronoff studied acting and dramatic arts at Penn State Erie and studied directing at Kennesaw University. She has two children and lives in Marietta, GA.
Darby Wills Chism teaches art and drama classes at the Kennesaw Community Center and has worked as a preschool teacher, an art-enrichment instructor, and an art specialist for Cobb County's Cultural Affairs Department. Ms. Chism lives in her hometown of Marietta, Georgia, with her husband, David, and their children, Rebecca and Wyatt.