Lemmings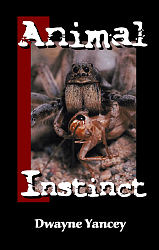 Short Plays

By: Dwayne Yancey
Cast: 3 F
Performance Time: Approximately 5-6 minutes, 4 pgs


COMEDY. Three lemmings perched on a cliff off the coast of Norway discuss how to jump off: cannonball, head first, or swan dive. Included in the short play collection "Animal Instinct."
Freeviews: To read play excerpts click here.
Please remember it is necessary to purchase one script for each cast member and one royalty for each performance.

Scripts: $7.95 each
Royalty: $20.00/performance
Poster Package: $50.00 (50/pkg)
Distribution Rights: $20.00
Artwork Rights: $50.00


Dwayne Yancey has published several plays and some of his works have been produced in New York by professional theatres. Yancey lives in the Blue Ridge Mountains with his wife and two children, all of whom are veterans of the community theatre stage.